We presented the results of our work as part of the ASSURE project #ECR2016
The 28th annual European Congress of Radiology (ECR) took place last week at the Austria Center Vienna. From March 2nd to March 5th, more than 25,000 (onsite and online) participants had the opportunity to learn the latest trends and research on radiology from first hand. ECR also counted with the presence of around 300 worldwide companies of the medical field, professional societies as well as research projects.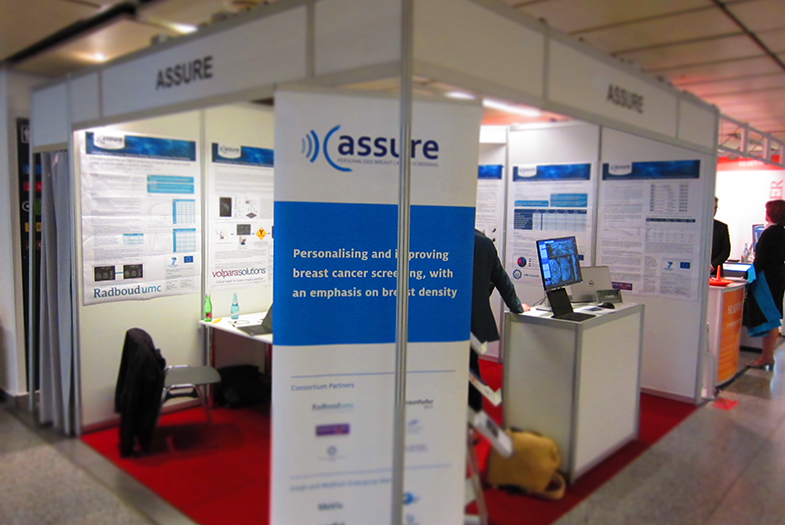 In this sense, the FP7 European project ASSURE, where ViCOROB took part as consortium member with the lead of Dr Robert Martí, was present at the congress with its own booth. Furthermore, research developed at ViCOROB was presented at ECR through the medical imaging group members Dr Yago Díez (currently at Tohoku University, Japan) and Dr Oliver Díaz.
"Automated volumetric lesion quantification in automated 3D breast ultrasound: comparison of 5 breast lesion segmentation algorithms". Diaz, R. Agarwal, A. Gubern-Merida, J. van Zelst, Y. Diez and R. Martí.
"Computerised image quality assessment in automated 3D breast ultrasound images". Schwaab, A. Malavé Dos Santos, Y. Diez, R. Martí, J. van Zelst, A. Bensouda Mourri, J. Gregori, M. Günther.
"A study of rigid registration methods for ABUS temporal studies". Díez, A. Maroto, O. Díaz, A. Gubern-Mérida and R. Martí.